Beating the benchmark
SA's top performing multi-asset income funds.
Patrick Cairns
Money market accounts at South Africa's major banks are currently paying interest at around 6.5%. That's only 2% above the current rate of inflation.
This might be a fine place to park money for a very short period, but once you take into account the tax you pay on the interest earned, your savings are probably only barely maintaining their value in real terms. Inflation only has to rise slightly for the buying power of your money to start going down.
Five-year fixed deposits are currently earning around 8.1%. That's not bad in the current environment, but your capital is completely tied up for that period. You have no liquidity if you need it.
Investors looking for alternatives to these products offered by banks can consider multi-asset income unit trusts. Not only have many of these funds shown the ability to deliver returns consistently higher than bank deposits over a number of years, they also offer access to your money within a matter of days.
As the table below shows, the top funds in this category over the last year have all delivered growth of more than 9%.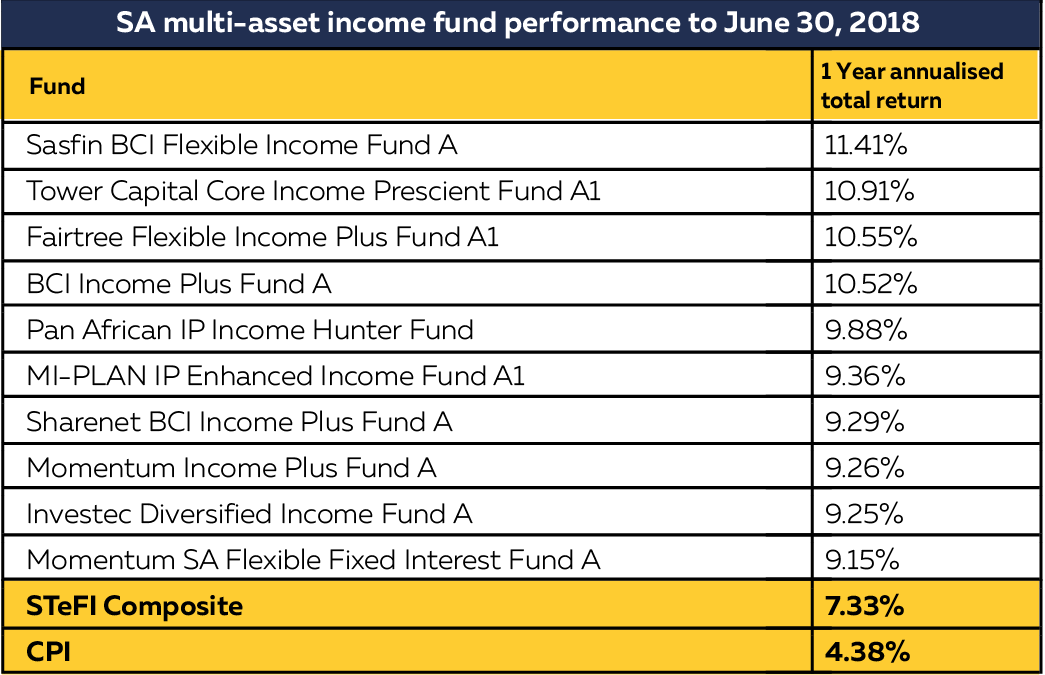 The benefit of multi-asset income funds is that, depending on their mandate, they can invest not only in fixed deposits and the money market, but also bonds, preference shares, listed property (up to 25%), and even dividend-paying stocks (up to 10%). They can also diversify offshore. They therefore have more options when it comes to generating returns.
This does mean that they carry slightly more risk, but the majority of them have a strong focus on preserving capital. Over the last 48 months, for instance, the Fairtree Flexible Income Plus Prescient Fund has only shown a negative monthly return on three occasions. The largest of those declines was 0.38%.
Investors looking at funds in this category should however be aware that funds can go about things very differently. For example, the Sasfin BCI Flexible Income Fund has the STeFI Composite (money market index) as its benchmark. The Fairtree Flexible Income Plus Prescient Fund however targets STeFI + 3%, and the BCI Income Plus Fund targets STeFI + 2%.
What they invest in also differs. The Sasfin fund will not include shares in its portfolio, but Fairtree and BCI might. Sasfin does not have any foreign exposure, but the Fairtree and BCI funds do.
This may appear confusing, but the important thing for investors is to ensure that they are comfortable with the approach of the fund they are investing in. In this category especially, performance numbers alone tell only a very little part of the story.
The Sasfin fund, for instance, may appear to have the most conservative mandate of the three discussed above, yet a look at its portfolio shows that it has a very high exposure to Eskom and Sanral bonds. This may be okay for some investors, and its recent returns have so far justified this approach, but others may feel that there is too much risk there for their liking.
The Fairtree offering, on the other hand, has only 60% of its fund in local bonds. It is diversified offshore and has a higher exposure to the money market.
As the table below shows, the volatility of these funds can differ quite substantially. The third column shows what percentage of return investors in each fund have seen per percentage of volatility over the past 12 months. The lower the figure, the more volatile the fund has been relative to the return generated.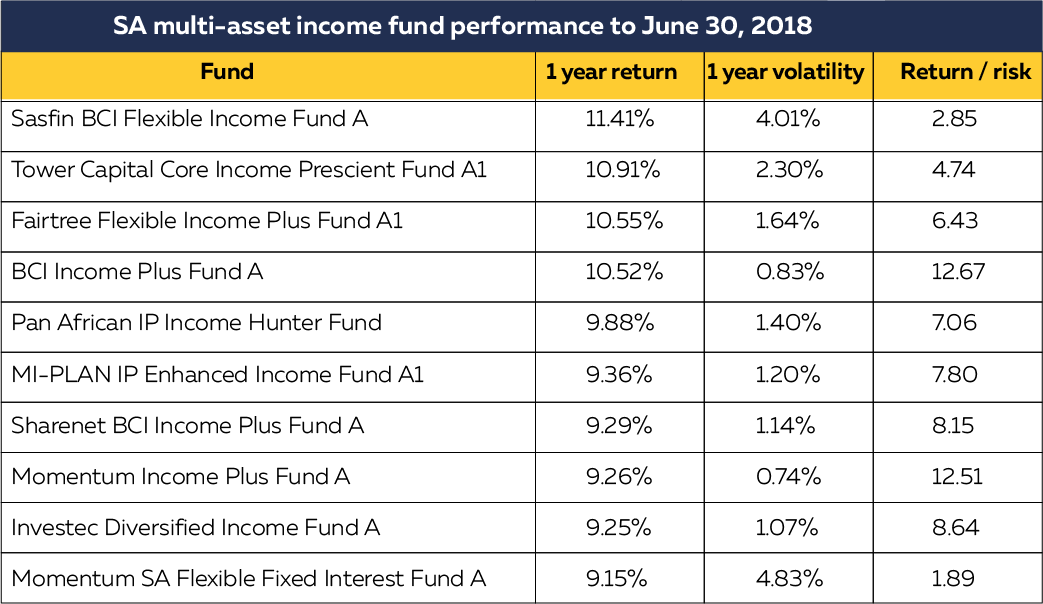 What this shows is that while these funds are all in the same category, they do not all do the same thing. Investors should be aware of these nuances to ensure that they know what they are buying.
Looking over the slightly longer term, the below table shows the top performers in this category over the past three years:
This shows that these funds have all consistently produced returns of at least 1 percentage point above the money market (STeFI). They have also performed at least 3 percentage points above inflation.■
This article was originally published on Moneyweb.