Avoiding the lead balls
Investing is not a perfect science; but risks can be reduced
Sasha Planting
What does investment risk look like?
Investment experts all talk about risk. But what is investment risk and can it be controlled?
Some view risk as investments that are likely to underperform the index, others see it as investments that underperform those of their peers. It is any number of things; the simplest being that investment risk is the probability that investors will suffer permanent capital losses.
"Not achieving the returns you need is the way I would define risk," says Paul Bosman a fund manager at PSG Asset Management. For instance, if you are saving for a pension over 35 years at a rate of say R5 000 a month and the fund underperforms by 1% a year that makes a significant difference. But if it underperforms by 2% (which doesn't sound a lot), investors will be left with 30% less retirement capital. A 3% or 4% underperformance doesn't bear thinking about.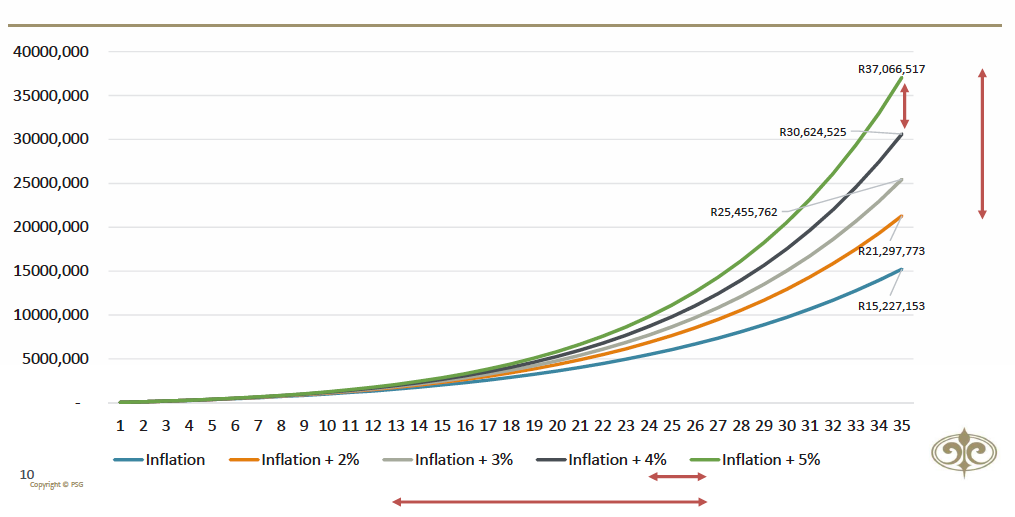 So what can one do to reduce this risk and in the process, enhance returns? Again there are any number of answers but chief among these is to have patience, spend time in the market and diversify your portfolio. It sounds simple doesn't it?
Speaking at PSG Asset Management's autumn update, Bosman noted that when making investment decisions, mistakes can be made – which obviously are detrimental to your ability to save and compound those savings over time. "If you lose 25% of someone else's money, you need to earn a return of 33% to get it back. Similarly if you lose 50%, you need to earn back 100% to ensure the portfolio is not harmed."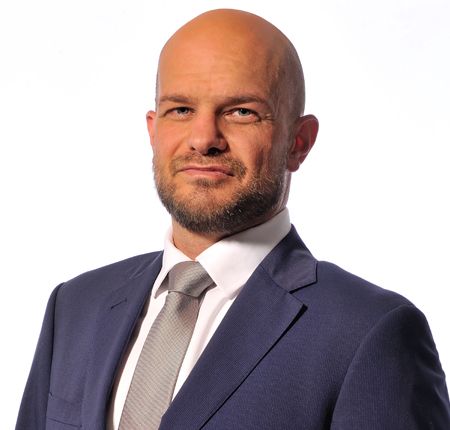 Paul Bosman equates risk with not getting the returns needed.
Source: Supplied
Some mistakes are worse than others."Some mistakes are temporary and others are permanent," he says. "Temporary mistakes are where you have invested in a stock which then falls from fair value or below to a deeper discount. That is when you must have the courage to hang on. These mistakes tend to reverse when markets calm down, much as a ball submerged under water will inevitably rise."
However permanent mistakes are different. These occur when one calculates the intrinsic value of a company incorrectly. As the chart below shows, it just takes three bad years over a 32 year history to undo the benefit of inflation + 5% returns.
"Cumulative, permanent mistakes are highly detrimental to long-term performance – they are the lead balls that drag you down," says Bosman.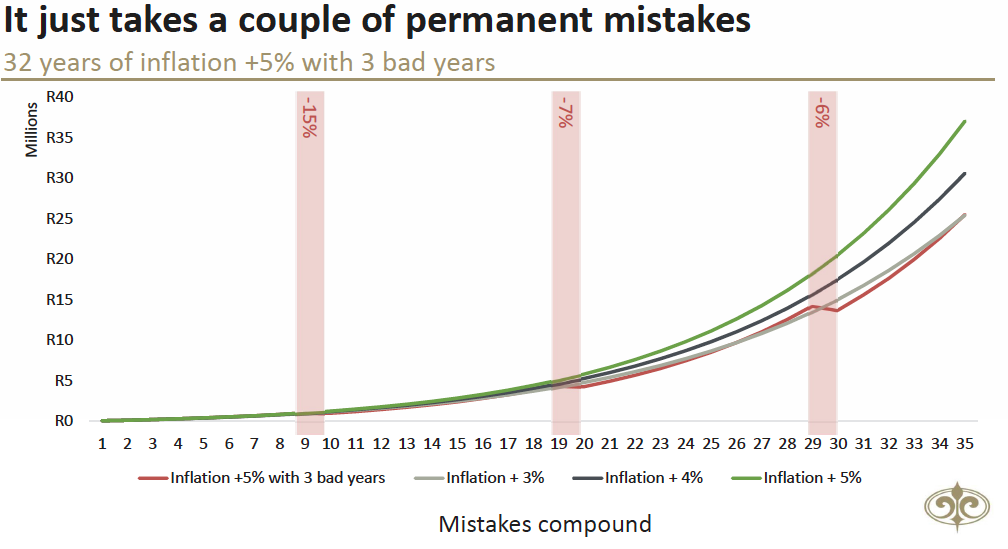 So what are these permanent mistakes? Four words: valuation, debt, moats and governance. Identifying these potential lead balls takes legwork, says PSG investment analyst Dirk Jooste. "If you do not do thorough research that follows a repeatable process you are likely to miss something important."
For instance it is easy to overpay for an asset, which then mean reverts to its fair value. If you invested in Microsoft (a great share to hold) during the dotcom hype in late 1999 you will have had to wait 16 years just to recoup your initial investment.
It's also easy to believe a highly successful company has a permanent moat (competitive advantage) around it. If this proves incorrect, your cash flow projections will be woefully inaccurate.
Ask anyone who held shares in companies like Sony, Kodak, Netscape, Blackberry and MySpace when the bubble burst. "It is important to follow track records, look for evidence of superiority," says Jooste. "Are new entrants disrupting? Are there industry players that are not profit sensitive? Are there political or regulatory considerations at play?" (Investors in Chinese companies like Tencent will be well aware of the regulations governing both competition and ownership in the Chinese market.)
Dirk Jooste says it is important to consider track records and look for evidence of superiority when assessing stocks.
Source: Supplied
Similarly, if the balance sheet is not strong it will not withstand recessions or pullbacks, forcing investors to face consequence such as a highly dilutive rights issue. "The likes of AECI, Grindod, Raubex and Anglo American Platinum all faced tough times in cyclical industries. But they will survive for long haul," Jooste says. "That's because unlike Lehman Brothers, ToysrUs or New Look, they were not saddled with too much debt."
Governance, and the risks that poor governance impose on a company, was always a slightly academic subject. That is, until Steinhoff happened. "If you can't trust the numbers you can't calculate a margin of safety," he says.
South Africa is not alone. Giants like Tyco, Olympus, Lehman Brothers, Enron, Worldcom and Waste Management were all brought down by poor governance.
Jooste believes it is important to have a governance checklist: This means ensuring shareholder interests are aligned with those of executive management; being aware of possible conflicts of interest; paying attention to executive remuneration; and ensuring that the reporting is transparent.
As if that is not enough there are other two other investment risks to bear in mind when constructing a portfolio. One is when your investments are too highly correlated. In other words you bet the farm on one asset or asset class for instance.
The other is hiding in cash believing it's the safest option. It's not. "You have to invest in risk assets if your goal is to generate a return of inflation plus 5%," Bosman says.■